The Way of Play
A New Mode for Creative Learning
A Film on the Educational Insights and Innovations of Doug Goodkin, Sofia López-Ibor & James Harding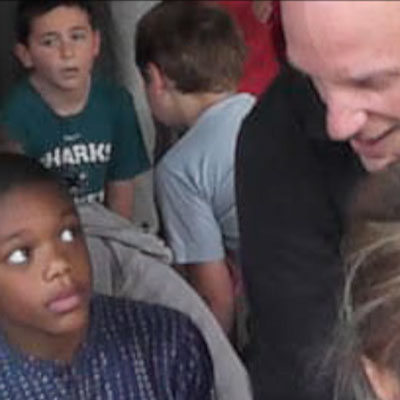 Play is Work. To build a house, design a dress, write a book or cook up a new dish you first play with your materials to see how they work. That's what Albert Einstein had in mind when he said, "Play is the highest form of research." Try to imagine creating something now if, as a kid, you had never played.
Play is the way children learn how things work. And by 'things' we mean not only ideas and objects but human relationships as well. Playing with an object or a friend gives us pleasure: James Harding says, "To be happy and at play is probably the ultimate form of receptive mind."
James Harding, Sofia López-Ibor and Doug Goodkin are school teachers whose work is play. Not because they teach music but because they've discovered the efficacy of play in learning. Theirs is creative play, a form of play that invites the student to contribute to the creation of the lesson itself. And, by weaving a panoply of disciplines—history, language, art, biology, math—into their musical activities, they introduce a new mode of learning, a mode that excites and engages in a way that words cannot convey. That engagement will be conveyed in The Way of Play/A New Mode for Creative Learning, a 60 minute film that will show how a single subject can be used to stimulate creative thinking, instill self-confidence and foster community.
Play—creative play—is the warp and weft of their weaving; together, Doug, Sofía and James have devoted over 7 decades to thinking, rethinking and finally realizing their vision, a vision that not only imparts knowledge, but nurtures aesthetic sensibilities through a certain pace, a certain tone—a mode that is itself a thing of beauty.
The purpose of The Way of Play is to inspire viewers to take a fresh look at the value of play and to encourage teachers of all disciplines to seek new ways of using creative play in their work.
---
Demo 1 removed for revision
---
Demo 2 for The Way of Play: Doug, Sofia & James teaching teachers
Doug, Sofia and James teaching teachers: selected sequences from this Orff Levels Course will appear in The Way of Play